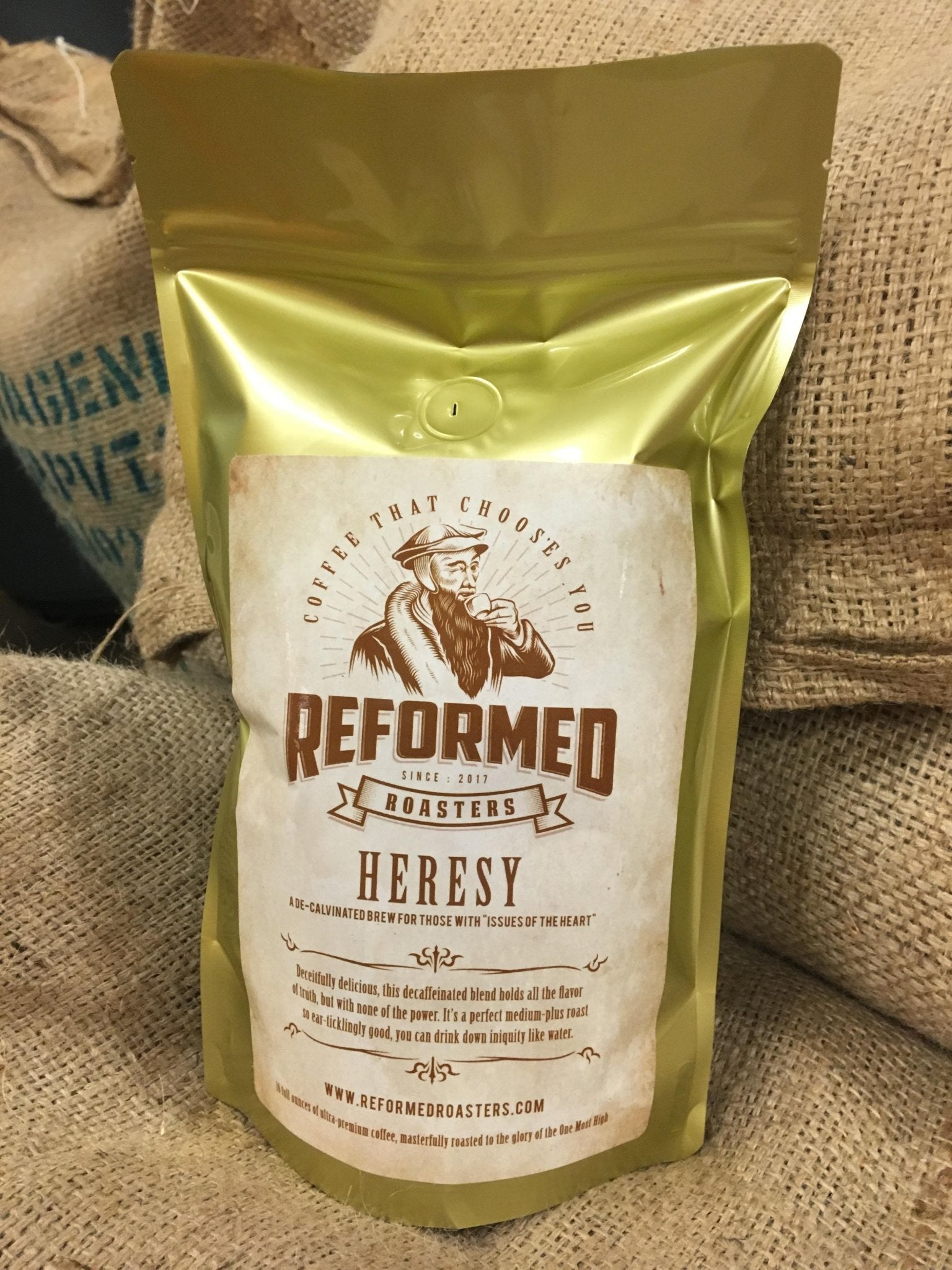 Heresy [Decaf] (1lb - Whole Bean)
---
"Unorthodox in its deliciousness, uncompromising in its rejection of all things Calvinated, this decaffeinated blend holds all the flavor of truth, but with none of the power.  It's a perfect medium-plus roast so ear-ticklingly good, you can drink it down like water."
| | |
| --- | --- |
| Gluten | NO |
| Origin | Ethiopian, Sumatran, Costa Rican |
| Organic | NO |
| Roast | Medium-Dark |
| Source | Multi-Source |
I used to view the caffeine content of coffee the same way God views marriage:
"What God has joined together, let not man separate." 
But many folks tell me they have 'issues of the heart' that simply will not allow them to enjoy coffee in the natural state which God intended. 
Well the Lord, in His mercy, has heard your cries for a delicious brew that doesn't pack an unholy cardiac punch … and while it may not be the way I'd drink it, this decaffeinated brew is sure to promote your 'Sanka'-tification.
In the early 1900's, there was a concerted effort to demonize coffee; and while some of the blame was legit; like insomnia and arrhythmia...  Much of the blame was excessive.
One crusader, a Dr. Harvey Wiley, said "coffee drunkenness is a commoner failing than the whiskey habit… This country is full of tea and coffee drunkards.  The most common drug in this country is caffeine."
And all this besmirching of caffeine wasn't without effect.
Ludwig Roselius - a young German inventor, had experienced the unfortunate death of his father at a young age.  However, what left the greatest impact was that Roselius' father was actually a professional coffee taster. 
Young Ludwig firmly believed caffeine caused his father's demise. 
So in 1906 Ludwig patented a process to directly extract the caffeine from green coffee beans…
Voilà… decaffeinated coffee was born.
Patent in hand, Ludwig emigrated into the U.S. in 1914 to make his fortune, but in 1917 the U.S. Government had a rather different idea.  Our dear leaders decided to use the Alien Property Custodian Act and "seized" his company, along with all of his patents… which were promptly sold to someone else.
Ludwig Roselius lost all of his material possessions… but he refused to be beaten.
He took his knowledge and accumulated skill and moved back to Europe where he started over.  He used the brand name Sanka (a contraction of the French "Sans Caffeine") and developed a powerhouse marketing and production system.
Seven years after the U.S. Government had seized all of his life's work, he moved back to United States to RE-START  what would become the dominate decaffeinated coffee for decades. 
And with a history like that - I've come to view decaffeinated coffee in a more positive light.
You may not have the caffeine in this cup of coffee, but you may get something better.
Why not drink down that indomitable fighting spirit that simply refuses to quit?  When other men and women are fearful to move and ready to quit… march out boldly on the promises and providence of God.
HERESY - our particular approach to decaffeinated coffee glory is an intoxicating medium roast with a luxuriant blend of the full bodied Sumatran, the delicate floral Ethiopian and punch from the denser Costa Rican bean that provides a rich and flavorful brew with no bitterness on the finish.