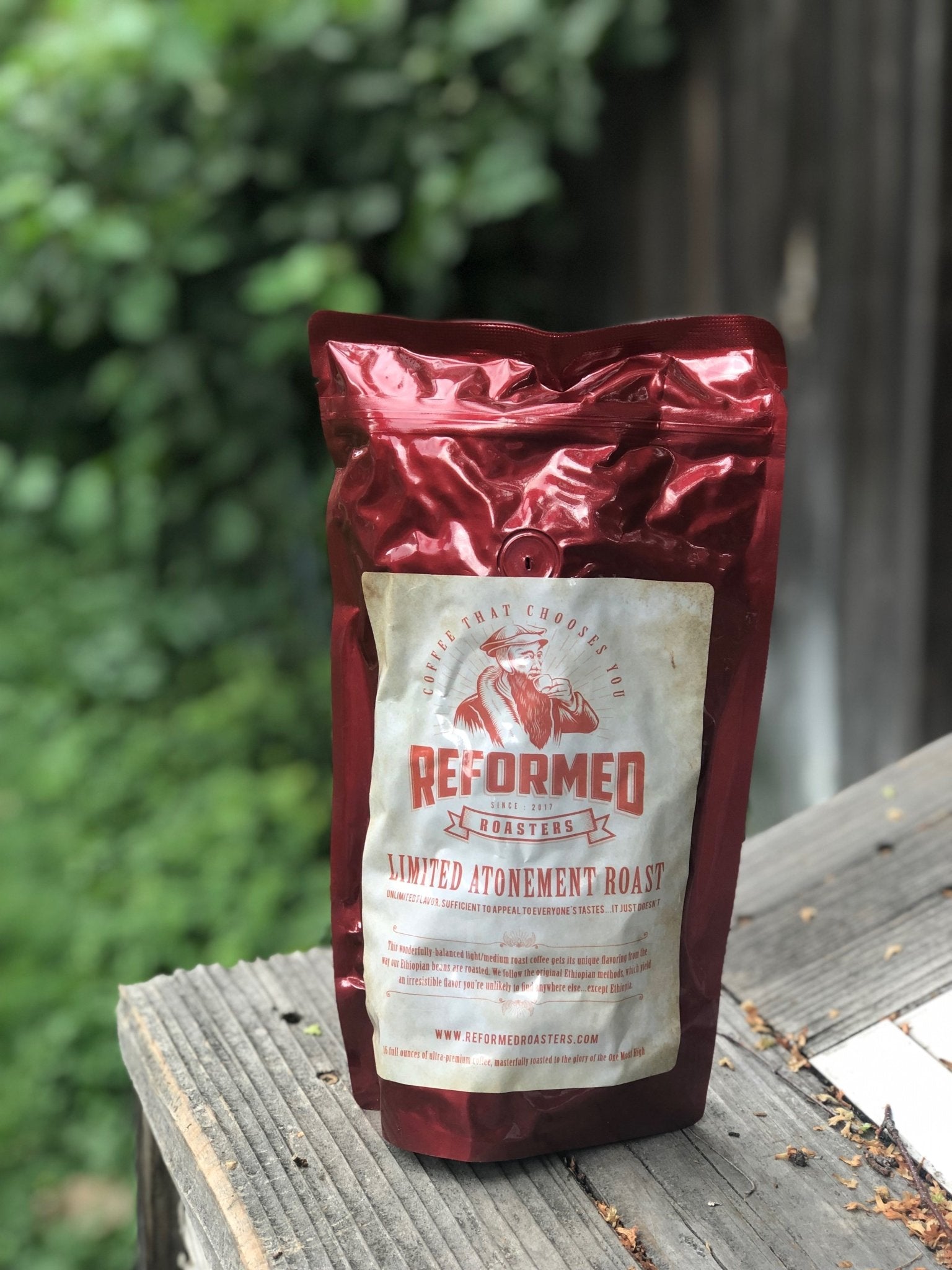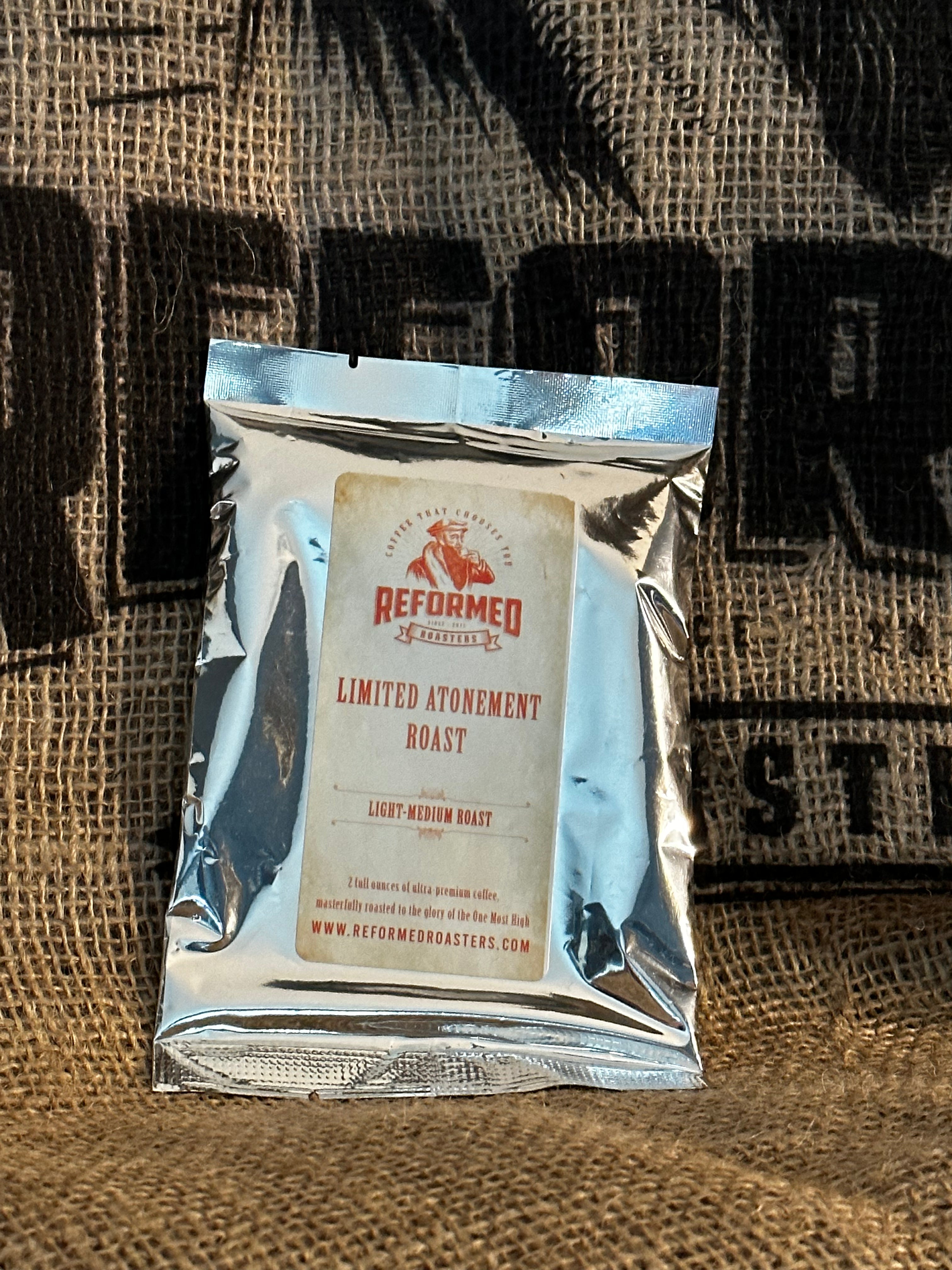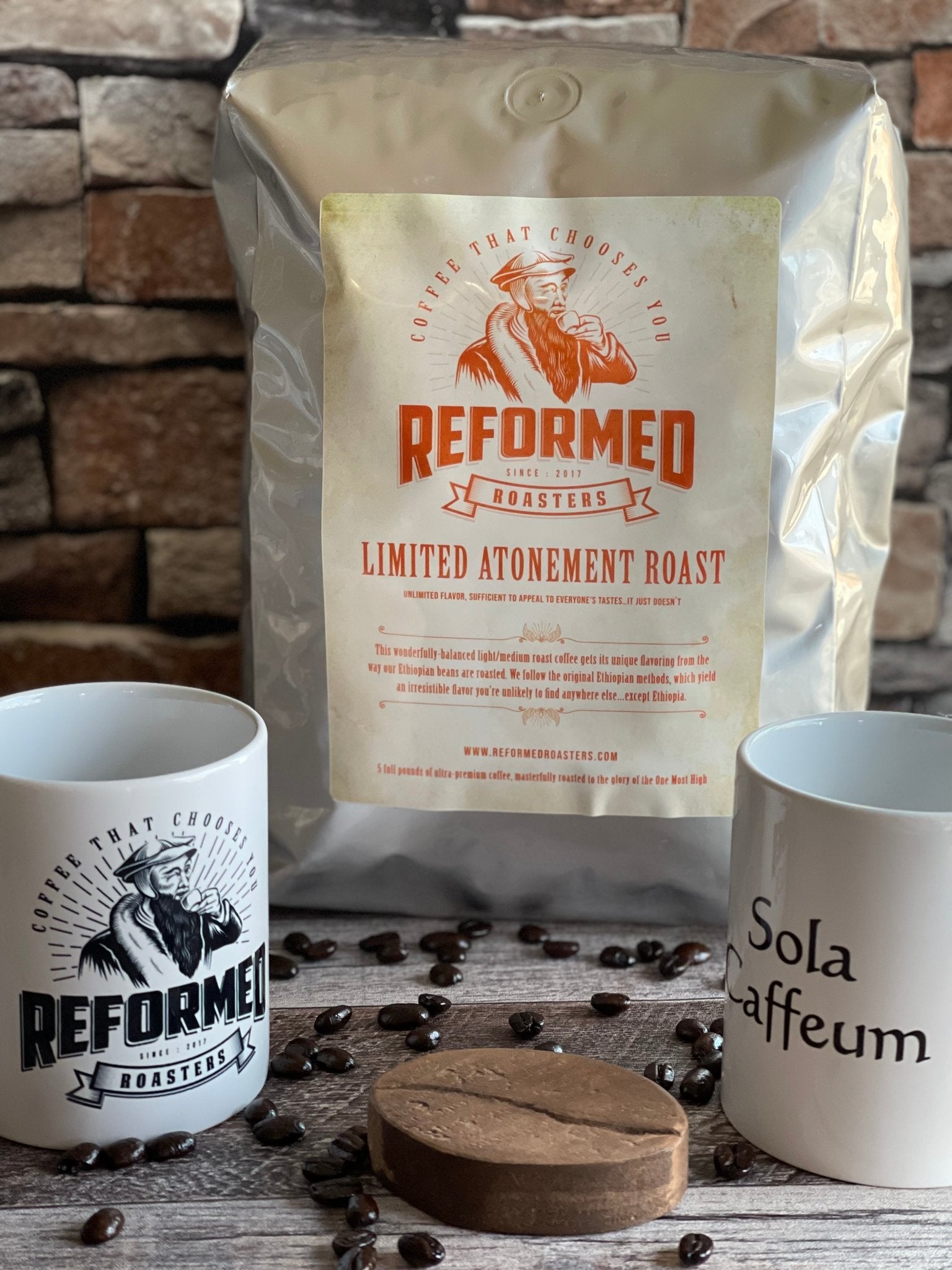 Limited Atonement
---
There's something PARTICULARLY REDEEMING about the delightful taste of Limited Atonement... and it's a testimony to the truth of Jeremiah chapter six:
| | |
| --- | --- |
| Gluten | NO |
| Origin | Ethiopian |
| Organic | NO |
| Roast | Light-Medium |
| Source | Multi-Source |
Sometimes, it's good to walk "the ancient paths."
Several years ago, a missionary to Ethiopia was here in the States sampling our single-source Ethiopian beans. He was polite but insistent that our coffee was simply not as good as what he had there in the local homes of Ethiopia.
Well he was entitled to his opinion, but we're professional roasters and we know what we're doing.
Or so we thought.
The legend goes that Kaldi was an ancient goat-herder along the mountains of Ethiopia.  Think of him like an Ethiopian version of King David (sans Christological typology).  This was a young man gifted with music and poetry.  Or maybe not so much gifted, as he simply didn't have much else to do.
Yet one day, at the call of his pipe, his usually responsive goats were nowhere to be seen.  After several desperate hours searching for his father's goats, he found them high on a mountainside frantically consuming the leaves and red fruit of a plant he'd never seen before. 
But more startling than the new plant were the coffee-buzzed goats.
Seeing no permanent ill-effects, the young Kaldi began to chew on the bitter leaves and sweet fruit himself.  It wasn't long before Kaldi himself was dancing along with his goats, spouting poetry and song like a mulleted southern gentleman at a Lynyrd Skynyrd tribute tour.
Thus began the worldwide coffee craze.
So with 500 or so years of practice, the Ethiopian  methods for roasting are fairly refined.  But surely they're not as good as our scientifically enhanced methods?
Well... we decided to put the missionary's Ethiopian roasting method to the test... and the results weren't even comparable.
By using the older Ethiopian methods, this cup is an absolute masterpiece of flavor.  This is our lightest roast, but it yields a full bodied coffee with a floral nuance and clean finish.
There's not a touch of bitterness, and it's so smooth you simply will not believe the difference.
Experience the savor of Ethiopian coffee... the way it was meant to be.